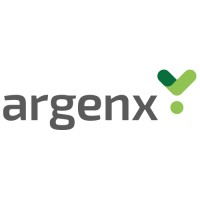 argenx, headquartered in Amsterdam, the Netherlands, is a prominent biotech company specializing in developing innovative antibody-based therapies. With a strong focus on research and development, argenx harnesses the power of antibody engineering and immunology to create novel therapeutic solutions for autoimmune diseases and cancer.
As a leader in the biotech industry, argenx has established itself as a pioneer in antibody discovery and engineering. By leveraging its deep understanding of the immune system and utilizing advanced technologies, the company develops highly targeted therapies with the potential for improved efficacy and safety profiles.
argenx's dedication to scientific excellence and commitment to improving patient outcomes have earned them recognition and partnerships within the biotech and pharmaceutical communities. With a track record of scientific advancements, the company continues expanding its product pipeline, aiming to bring transformative therapies to patients worldwide.
With its headquarters in Amsterdam, the Netherlands, argenx is a cutting-edge research and development hub. The company's presence in this vibrant biotech ecosystem positions it to collaborate with leading scientists, institutions, and industry partners, further fueling its mission to advance the frontiers of biotechnology.
Driven by a passion for innovation and a commitment to making a meaningful impact, argenx remains at the forefront of biotech advancements, striving to improve patients' lives through groundbreaking therapies.